With 190 million inhabitants, Nigeria is by far the most populous country in Africa. While the West African country is predominantly populated by Christians in the south, the north is chiefly Muslim. The infamous Islamist terrorist group Boko Haram, whose attacks are mainly directed against Christians, is active here. ACN supports the Nigerian Church in these difficult times with numerous aid projects.
As we learned from the local bishops, Christians are not only threatened in the north by the Boko Haram terror, but now even more brutally by heavily armed Muslim Fulani shepherds in central Nigeria who are increasingly taking action against Christians. Despite all the violence and threats, Christians continue to stand firm in their faith, and there are still numerous priestly and religious vocations. But the Church in Nigeria is urgently in need of help, not only to fulfil its pastoral mission, but also to comfort the traumatised and those in mourning and to rebuild destroyed Church infrastructures.
»We haven't lost hope, but we need help.«
ACN is particularly committed to supporting the local Church in training seminarians and helping needy priests with Mass stipends. We also help finance vehicles and are active in building and rebuilding church facilities.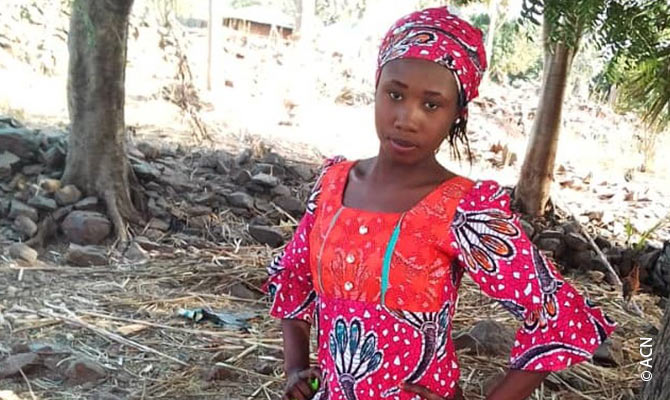 Leah didn't want to deny her faith
In early 2018, 100 schoolgirls were kidnapped by the Boko Haram terrorist militia in Dapchi in northeastern Nigeria. Among them was 15-year-old Leah. The Muslim girls were released by the terrorists. But Leah was forced to remain in captivity. For her to be released, the kidnappers demanded that the young Christian convert to Islam. But Leah refused. Her fate remains uncertain to this day.