For decades, poverty, violence, corruption and drug-related crime have been some of the constants that have repeatedly plunged Latin American countries into serious crises. For many of the more than 500 million Catholic Christians on the continent, the Church is often the only mainstay that still offers them hope. Nevertheless, the local Church has lamented the increasing decline in the number of believers for 40 years. Through our help, we hope to both alleviate the needs of the local churches and support them in initiating a change enabling more people to once again find a home in faith. In 2018, a total of 13.9% of our worldwide aid volume went to Latin America.
"There are problems that have no solution, only history." This quotation of the Colombian philosopher Nicolas Gomez Davila goes directly to the heart of the problems of Latin America. The recent political unrest in Venezuela is just one example among many.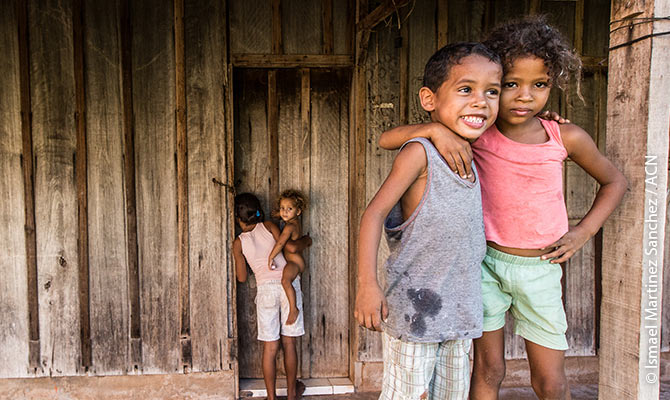 » 1,336 application for aid reached us in 2018 from Latin America. «
Political despotism, corruption, sects, drug mafias, violence and unemployment in most Latin American countries have now reached proportions that sometimes present the Church with seemingly insurmountable challenges. For it is often priests, missionaries and sisters who point out the bad state of affairs. However, the lack of young priests is dramatic and the rapidly growing flood of new sects also represents a difficult task for the Church. It comes as no surprise that a total of 1,336 applications reached us from Latin America in 2018 – about 10% more than last year. Venezuela and Brazil are at the top of this list as a result of political and economic crises. As a mission country with variable climate and geographical conditions, Peru has remained a focal point of our help.