Whether media relations, global meetings, events, conferences or campaigns – ACN's actions and public relations in 2018 were highly diverse. Here are some of the activities organised by the ACN headquarters or some of its 23 national offices.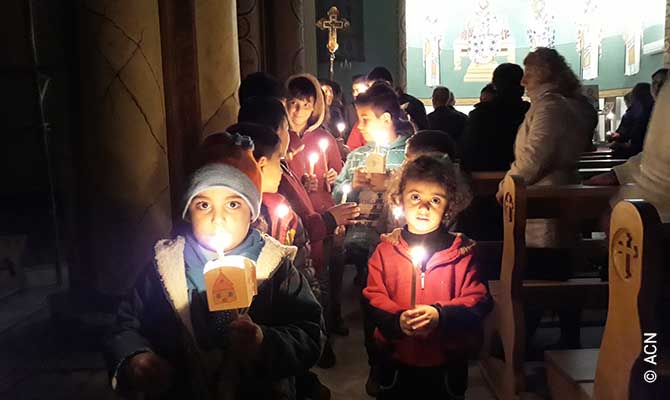 Candles for Peace
At the end of November, more than 50,000 children from the war-torn cities of Aleppo, Damascus, Homs, Tartus, Hassaké and Marmarita in Syria took part in processions, plays and songs for peace. Previously, at the invitation of ACN International, they had painted scenes and prayers on lanterns and lampshades in schools and parishes to express their longing for peace and reconciliation. The paintings were then distributed to donors through ACN's national offices, asking them to join in the children's prayers for peace on the first Advent Sunday.
Pope launches ACN campaign
On the second Advent Sunday, during the Angelus on St. Peter's Square, Pope Francis lit a candle depicting photos of needy children in Syria. With this action, he opened the ACN Advent campaign "Candles for Peace" to support Christians in the troubled country. Afterwards, 400 masses for peace and the concerns of the Pope were celebrated in Syria, another 300 in Egypt, 250 on the Arabian Peninsula and 100 in Lebanon. At an international conference in Rome, ambassadors and participants were asked to light a virtual candle.