At around 76% of the population, Catholics make up the vast majority of religious communities in Peru. Nevertheless, Peru is one of the Latin American countries most strongly supported by ACN. And for good reason: Although there is now modest urban prosperity in the Andean country, the predominantly indigenous population in rural and mountain areas typically live in bitter poverty. The material deprivation has also affected the local Church. ACN is therefore primarily involved in the formation of priests and supporting sisters in Peru.
» New vocations are a true treasure for the Church in Peru. «
New vocations are the true treasure of the Church, including in Peru, for a new generation of priests promises pastoral continuity and spiritual future. In Peru, ACN supports the formation of young priests in more than 20 seminaries. This not only includes the study of theology and philosophy; the seminarians also go to the villages, offer catechesis, visit the sick and take care of the young and lonely.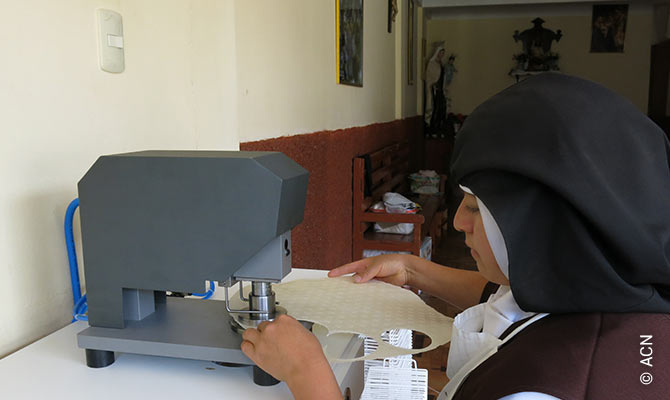 "We learn to serve and try to satisfy people's hunger for God," emphasises Wilber Sucapuca Jaila from the Our Lady of Guadalupe seminary on the Chucuito Plateau. The total cost for a seminarian amounts to about 2,100 euros for a full year, including accommodation, meals, medicine and books. But even with stipends of 180 euros per seminarian, seminaries are able to plug the holes in their annual budgets.
The training of catechists has also been improved with the help of ACN. For example, in the Apostolic Vicariate of Iquitos, a monthly meeting of all catechists enables them to share their experiences in workshops, lectures and discussions. Many of them live in remote parishes in the jungle, which are often difficult to reach.
Material support for sisters
Our aid for active and contemplative sisters has been an important concern for us for many years. One example of this is the congregation "Hermanitas de los Ancianos Desamparados" (Little Sisters of the Helpless Elderly), which maintains eleven houses and a retreat centre in Peru. Here, the sisters care mainly for the poor, the lonely and the elderly.
Under the motto "Care for the body in order to save souls" of their founder, Saint Teresa Jornet, sisters not only help with the washing and meals, but also provide care and assistance to support people in their spiritual needs. This is charity in the truest sense of the word, which we would very much like to continue to aid in the future.