Brazil is the fifth largest country in the world. Of its 210 million inhabitants, 64% are Catholics. But the number of believers is dwindling. 20 years ago, Catholics still accounted for 75% of the population here. This development is not least due to the misery caused by corruption, unemployment, economic crisis and environmental destruction, which fuels mistrust and makes many open to the salvation promises of new sects. ACN responds to diocesan applications with support for the formation of priests, existential aid for sisters and financial assistance for the purchase of vehicles. Much of the funds primarily went to the Amazon region, which is very difficult to access.
In addition to social and political problems, the extreme geographical and climatic conditions also present the country with great challenges time and again. Almost half of Brazil's land area is made up of the 7 million km² Amazon Basin, which extends far beyond the country's borders. This area is often marked by bitter poverty, a great shortage of priests, poor pastoral care and a correspondingly strong presence of various new sects.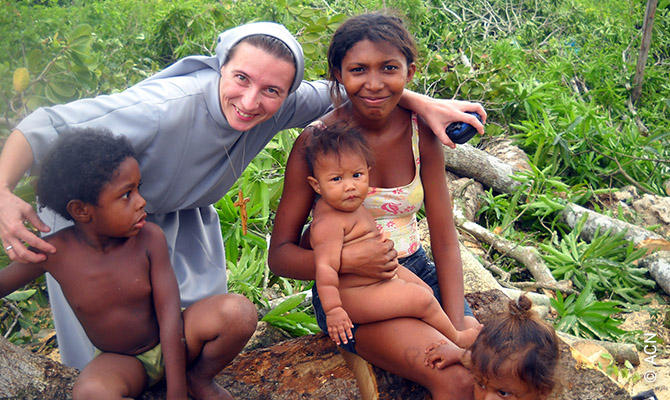 In this region, which is often referred to as the "Green Hell", the number of applications further increased compared to last year. The hot and humid climate, along with malaria and other tropical diseases and completely inadequate medical care, make it difficult for Amazon inhabitants to cope. In addition, there are frequent floods. Pastoral care is difficult. Many parishes on riverbanks and in the rainforest frequently have to forgo the Eucharist for months.
» Brazil remains full of problems – but also full of opportunities. «
ACN supported the Amazon region of Brazil with almost 700,000 euros in 2018 alone. Whether training aid for seminarians, mass intentions for priests, subsistence allowances for sisters or the purchase of vehicles and boats for mission programmes – our help primarily ensures that the Church's presence is maintained, even in remote and inaccessible parishes.
Brazil's Church raises its voice against grievances
The current political situation has repeatedly led the local Church into conflicts, for example, due to the deforestation of the rainforest or the construction of huge hydroelectric power plants, which lead to land displacement and migration problems. In those places where the Church denounces problems such as the penetration of agribusiness and other megaprojects for economic development in Amazonia, it is not uncommon that people try to silence it.
The same applies when the Church opposes the sexual exploitation of women and children and works to combat corruption and nepotism. Sometimes bishops and religious members even receive death threats and require armed protection.