In most countries in Asia and Oceania, people have to bear bitter poverty. This is exacerbated by the fact that in most Asian countries, Christians are in the minority and suffer from persecution and discrimination. In Asia, with Oceania, there are also many natural disasters, frequently caused by the effects of climate change. Migration to cities coupled with social and cultural uprooting are often the consequences. Here the Church, in addition to its pastoral mission, is also a source of charitable assistance. But it can hardly cope with its tasks without outside support. In 2018, ACN supported the Church in Asia and Oceania with a total of 12.1 million euros.
The challenges facing the Church in the vast area of Asia and Oceania vary greatly from region to region. For example, Christians in South and South-east Asia have been suffering for years from the rise of Islamism or – as in India – from extreme Hindu nationalism, which has already claimed many Christian victims.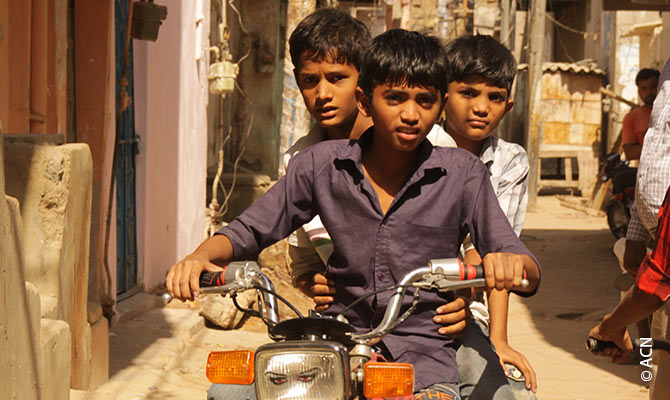 » Thanks to your help, we can continue our pastoral work. «
In East Asia, on the other hand, government repression often makes life difficult for the Church. And in Central Asia, the Church is still occupied with rebuilding its structures after the collapse of communism in the former Soviet republics. In areas that are often vast, vehicles are needed so that priests and sisters can reach the people to whom they offer pastoral care. In Central Asia, as in nearly all countries of Asia and Oceania, pastoral care for families and young people has become a focal point of the Church's work. ACN supports these initiatives as well as the construction and repair of church buildings and the formation of candidates to the priesthood, religious and catechists.