On the world's fourth-largest island, more than three-quarters of the population live in extreme poverty. 15% of the population are Catholic. Foreign fundamentalists are currently threatening to Islamise the country. Their hatred is also directed against Catholics – many church institutions are affected by vandalism. Against this backdrop, first evangelisation efforts are urgently needed, along with support for a new generation of priests.
Fundamentalist and jihadist attacks are testimonies of deep-seated religious conflicts that bishops around the world currently lament. For example, in Madagascar, Bibles have been bought and burned on a massive scale, statues of the Blessed Virgin Mary destroyed and church bells stolen. The situation is further dramatized by the immigration policy of the government – currently the entry of Muslim foreigners, especially from Turkey, is being promoted on a large scale.
» Many people here have never heard of the Gospel. «
Course for priests in Rome
To strengthen the presence of the Church in Madagascar, we have been supporting the formation of seminarians for many years now. In July 2017, all the seminary instructors were sent to Rome for a fiveweek course by the Legionaries of Christ. The course focused on their spiritual renewal and deepening of their mission to foster priestly vocations among others.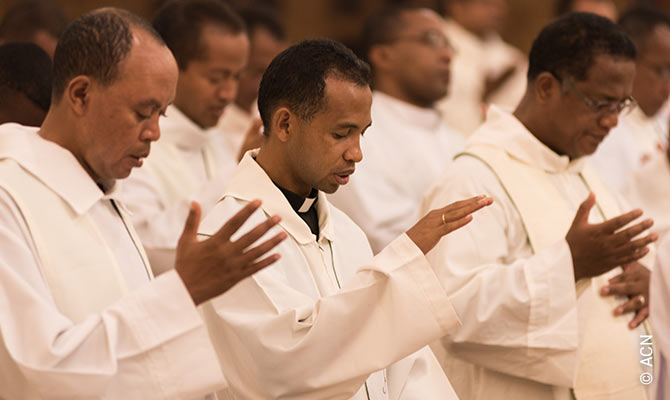 In Rome, the whole team of trainers was able to live, work and pray together – the participants' experiences and observations have encouraged us to continue promoting similar projects in Madagascar in the future. For instance, a Malagasy bishop told us: "The Pope asked me who had helped us, and I answered him Aid to the Church in Need. And the Pope repeated what Cardinal Filoni had already confirmed to me: they accomplish so much with their aid because they pray."